Oil companies are poised to benefit from a substantial decrease in the time it takes to model oil reservoirs, following a supercomputing breakthrough announced by Italian major Eni.
Eni and US-based Stone Ridge Technology (SRT) revealed on 4th May a new cooperative agreement designed to advance and accelerate the development of ECHELON, SRT's high-performance reservoir simulator.
The two companies will work together over the next three-and-a-half years to enhance and promote next-generation simulation technology and workflows that are enabled by ECHELON's performance.
One of the significant differentiating features of ECHELON is that it runs entirely on Graphical Processing Units (GPUs) rather than CPUs, said Vincent Natoli, the CEO of SRT.
A decade ago, NVIDIA, the primary GPU vendor, opened up its chip architecture to go beyond just graphics to any sort of general calculation.

"They created the CUDA development environment that allows general programmers to access the incredible power of their massively parallel chips," said Natoli.
Since then, many have jumped at the opportunity to take applications that typically run on CPUs and port them over to GPUs, experiencing tremendous speed ups in some cases.
Oil and gas companies started working on GPUs as early as 2008-2009, said Geetika Gupta, Principal Product Manager, HPC & AI at NVIDIA. "They saw that the kind of problems that they are trying to solve, fit the GPU architecture very well. Seismic analysis and ResSim require a lot of parallel processing in converting the data collected via radio signals into creating a model of the sub-surface of the earth," she said.
GPUs were primarily designed for graphics, where 1000s of cores are computing in parallel and the image gets displayed.
"The ResSim model comprises of millions of 3-d cubes called cells that together create the model of the earth's sub-surface. Solving all these cells in parallel is well suited for the GPU's inherent processing architecture. The oil and gas companies realised this was great architecture which fits their problems and workflows very well, so they started adopting it," said Gupta.

NVIDIA has since then worked with several developers in the oil and gas community. "We've taken their feedback and made it easier for customers in this area to adopt GPUs via developer tools and libraries," said Gupta.
SRT claims ECHELON is the fastest, most scalable simulator in the world and is built to run entirely on NVIDIA Tesla GPUs, the same high-performance computing platform now powering the revolution in artificial intelligence, machine learning and big data.
Reservoir simulation codes model the subsurface flow of hydrocarbons and water in a petroleum reservoir. They allow energy companies to optimize recovery from their assets by simulating numerous 'what-if' scenarios for well placement and development strategies.
In the oil and gas industry, the first applications to move over to GPUs were related to seismic imaging, said Natoli. "Now almost every large oil company is using GPUs in one way or another – most are addressing seismic imaging."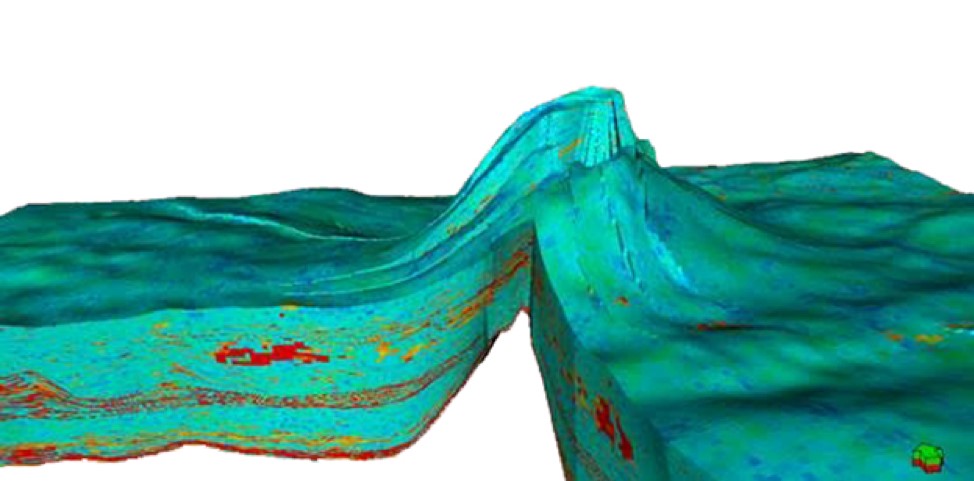 Caption: Image of reservoir model showing horizontal transmissibility (red= high, blue=low).
Source: Stone Ridge Technology
The reason for this is all to do with performance; GPUs are delivering more raw speed than CPUs and the tech trends are in their favor. Where CPU performance has stagnated in recent years, GPUs have kept advancing along the Moore's law curve.
"Two things make ECHELON exceptional, the GPU implementation and my team's expert approach to the applied math and numerics," said Natoli. "First, the GPU chip has more capability, both in the execution of calculations and the movement of data. If you compare a modern GPU to a CPU, the GPU can move data and do calculations roughly 10 times faster."

"Second, our solver methodology is robust, it converges quickly and it uses advanced and well adapted numerical approaches. It's as much about consideration of the numerics and applied math as it is about the hardware. If you get the former wrong the hardware won't save you. That's why we're getting the results we report," he said.
Running software on GPU also reduces hardware footprints so it not only calculates more quickly, it does so with less hardware and for less money. As a result, oil companies can generate more information about how to find and extract hydrocarbons from their billion dollar assets in less time and at less cost.

A quantum leap
Eni's recent announcement using ECHELON to run a massive number of reservoir models in record time on its HPC4 supercomputer (3,200 NVIDIA Tesla GPUs) may represent a quantum leap in capability.
Eni's HPC4, deployed in its Green Data Center facility, performed the breakthrough calculation in early May, opening the path to a new era for reservoir engineering numerical modeling. HPC4 executed 100,000 high-resolution reservoir model simulation runs, taking into account geological uncertainties, in a record time of 15 hours. In comparison, said Eni, most reservoir engineers in the industry can run just one single simulation in a few hours with CPU-based hardware and software.
A high-resolution model of a deep-water reservoir, with 5.7 million active cells, was executed with 100,000 different geological realizations, each one running on a single GPU in an average time of 28 minutes to simulate 15 years of production.
The Eni Green Data Center's hybrid supercomputers (HPC 3 and HPC4) have a peak performance capacity of 22.4 PetaFlop/s and provide strategic support to the company's digital transformation process across the entire value chain, from the exploration and development of oil and gas reservoirs, to the management of the big data generated in the operational phase by all of the company's assets.
"Eni has bought what is currently the most powerful commercial supercomputing cluster in the world and they bought it for a reason: they are going to run applications with these GPUs and now that they have ECHELON, they can do reservoir simulation at a capacity far beyond anyone else in the industry," said Natoli.
The promise is one of significant performance improvements for oil companies willing to adopt GPU-based simulation software. Models that have until now taken one or two days, are now completing in less than an hour.
Explained Natoli: "The latest Volta GPUs can simulate model sizes up to 12 million cells. For CPU-based codes to get the best speed they have to use a lot of cores, in other words multiple CPU processors in multiple boxes. It breaks up the reservoir into hundreds or thousands of little pieces and spreads it over dozens of nodes. This is inefficient because it incurs additional communication costs between cores and nodes. So even the best speeds from CPU codes don't come close to ECHELON."
ECHELON can run on any machine with an NVIDIA GPU. In fact, one member of the SRT team is running it on his MS Surface laptop.
Though other oil majors have conducted trials, and smaller firms have licensed the technology, Eni remains in the vanguard in terms of reservoir modeling on GPUs. In the Italian company's view, the path opened by this technology is a key and integral part of its digital strategy and transformation.
Looking to the future, advocates expect the use of GPUs to go beyond the upstream into the mid-stream and downstream areas too. "The upstream side will be good for seismic imaging and interpretation," said Gupta. "With the emergence of AI, oil and gas customers are looking at adopting deep learning techniques as part of digital objectives to improve revenues and efficiencies. It's a big new opportunity: GPUs are well suited for deep learning and AI."
Upstream Intelligence



Eni drives reservoir modeling breakthrough
Upstream Intelligence is a trading name of FCBI Energy Ltd.
Registered in England and Wales no.4388971. Registered address 7-9 Fashion Street, London, E1 6PX, UK