Data Driven Oilfields Market Infographic
We reached out to the upstream production community of operators and service companies to get some hard statistics on the current challenges and opportunities for the digital oilfield industry.

Just confirm your details in the box to the right to be sent straight to the infographic>>>>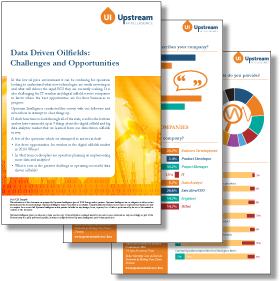 This complimentary infographic includes exclusive Upstream Intelligence survey statistics covering:

Are there opportunities for vendors in the digital oilfields market in 2016? Where?
In what team or discipline are operators planning on implementing more data and analytics?
What is seen as the greatest challenge in operating successful data driven oilfields?

Simply fill confirm your details in the box to the right to be taken straight to the infographic>>>

Regards


Upstream Intelligence is a trading name of FC Business Intelligence Ltd.
Registered in England and Wales no.4388971. Registered address 7-9 Fashion Street, London, E1 6PX, UK | Terms and conditions
Leonie Harper
Project Director
Upstream Intelligence
7-9 Fashion Street | London E1 6PX
tel. +44 (0)20 7375 7560